Clarinda Electorate
The district of Clayton is located in the South Eastern Metropolitan Region, 16 kilometres from Melbourne. It comprises of 38.0 square kilometres and encompasses localities such as; Clarinda, Clayton, Clayton South and Notting Hill. Parts of the suburbs of Bentleigh East, Heatherton, Huntingdale, Mount Waverley, Mulgrave, Oakleigh, Oakleigh South and Springvale. The Clayton district includes residential, industrial and manufacturing areas, and the Clayton campus of the Monash Medical Centre.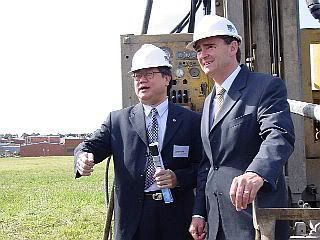 CLAYTON, THE CITY OF SCIENCE
The last 20 years has seen a complete transformation of the electorate of Clayton from an area of factories and warehouses to a vibrant high-technology science city. In that time the scientific heart of Victoria has moved from the Parkville area, centred around the University of Melbourne, to Clayton, centred around Monash University. This move parallels the move of much of Melbourne's industry from the inner to the south-eastern suburbs which now form Melbourne's industrial heartland.
Clayton is now home to Australia's largest cluster of science-based companies and scientific research laboratories.  These include:
•    Telstra,
•    Toyota,
•    Bosch;
•    the Australian Synchrotron;
•    the National Stem Cell Centre;
•    Monash Medical Centre;
•    CSIRO;
•    hundreds of small technological businesses working hand in hand with the larger institutions.
•    Monash University, Australia's largest university, with an unrivalled reputation for scientific research
CLAYTON COMMUNITY CENTRE
At $24.2 million, the Clayton Community Centre is Monash Council's biggest ever capital project and Victoria's largest community facility. It opened to the public on April 7, 2008.
The Clayton Community Centre houses the Clayton Public Library, Clayton Aquatics & Health Club, a theatrette, pre-school, occasional care, youth and family services, maternal and child care services, café, meeting rooms and MonashLink community health and advisory services.
MULTICULTURALISM
Clayton prides itself on its ethnic diversity. Sixty percent of families in Clayton speak a language other than English at home. In addition, more than half of the population were born overseas, making Clayton the most multicultural electorate in Victoria. The diversity of cultures is prevalent throughout the electorate, from the unique shopping and restaurant experiences offered at the Springvale shopping precinct, to festivals like the Globe to Globe World Music Festival.
Clayton's status as an icon of multiculturalism in Victoria is celebrated annually at the Clayton Annual Multicultural Banquet. The banquet has seen upwards of 800 attendees at times, representing numerous nationalities and hundreds of different community groups over the past 15 years.
PARKS AND GOLF COURSES
Clayton is home to several beautiful parks, wetlands, and several golf courses. The Clayton district is home to the Huntingdale Golf Club, Metropolitan Golf Club, Spring Valley Golf Club, and Commonwealth Golf Club.
Karkarook Park boasts serpentine wetlands, trails, picnic areas, a playground and a lake. Namatjira Park alongside other parks and reserves such as Bald Hill Park and Heatherton Park, offer walking tracks and other recreational opportunities.